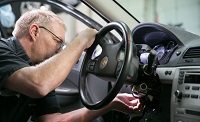 Ignition problems can reveal themselves in various once and it's often a worn key or it may be worn pins insight that the ignition cylinder which can lead to a situation where a normal electrical connection is not possible. When this happens the unit which has been installed to deal with antitheft solutions will simply prevent that vehicle from been successfully started. In fact the situation may be so severe that the vehicle engine will not turn at all even though the key seems to be turning normally in the ignition. More often than not the problem will be with the ignition switch. In some cases the engine may actually turn but normal ignition will not take place due to certain critical areas in that motor vehicle which has not been properly activated. Even while that vehicle is moving from point A to point B, problems with the ignition switch may cause that vehicle to cut out and it will be impossible to restart that vehicle until the problems with that ignition switch has been solved.


Ignition switch replacement


It should be remembered that when replacing the ignition switch it may be necessary to have the steering column cover removed before it will be possible to access those areas. On some vehicles there may be a dedicated access hole which will allow technicians to remove the switch more easily. There are various different methods by which ignition switches is secured and all of these systems, screws and covers have to be removed before that ignition switch can be successfully removed. Once the ignition switch has been successfully removed, the key must be inserted into the ignition even if the key has been broken. Most professional locksmiths will provide a key extraction service and once those keys had been extracted it will be entirely possible to duplicate a key and once again most locksmiths have the skills to do this. Professional locksmiths will then manipulate the push pin locking mechanism after which the ignition cylinder can be removed and there after the new cylinder can be installed. In some vehicles this process is very complicated.


Rekey Ignition


Your local auto locksmith will also be able to rekey your ignition. This is simply the process where the internal components of that ignition cylinder is modified so that it can work with an entirely new vehicle key. Depending on the applicable circumstances, rekeying may become necessary. Sometimes rekeying is simply easier or more cost-effective than having the entire ignition switch replaced. Rekeying can also be useful because it prevents a situation where vehicle owners have to carry two keys in order to operate a motor vehicle. New ignition switches is provided to customers with duplicate keys. In most cases when ignition switches is replaced, the locks on vehicle doors and also the baggage compartment remains unchanged and therefore they will still require the original key. Therefore you will require both your old and new key to open the different locks on your motor vehicle. Many people feel that such a situation is not ideal and therefore they will prefer to only use one vehicle key. Therefore it is certainly possible to have all of your vehicle locks rekeyed. However it is certainly more cost effective to only replace the ignition switch, but it is entirely possible to do all of the locks simultaneously.